Stay Here in Burkesville
Burkesville is the Fishing Capital of Kentucky and there are plenty of lodging options on Dale Hollow Lake and the Cumberland River to put you minutes away from those walleye, largemouth bass, and trout. There's also boating, water skiing, swimming, caving, golfing, festivals, parks, marinas, waterfalls, forested peaks, and scenic drives to enjoy. Play all day because a relaxing evening awaits in a comfortable lodge or hotel, cozy cabin, or spacious houseboat.
Renting a houseboat is a fantastic way to unwind while enjoying hundreds of miles of Dale Hollow Lake's secluded forested shoreline and 28,000 acres of shimmering water. If dry land is more your style, but you still want to enjoy the great outdoors, beautiful campsites from primitive to full hookups are plentiful. Be sure to check out your favorite website for vacation rentals, too. In Burkesville, you can pick your lodging to match wherever your adventurous spirit is leading you.
Lodging
4 C Horse and Cattle Company
Alpine Lodge (Alpine Wotel)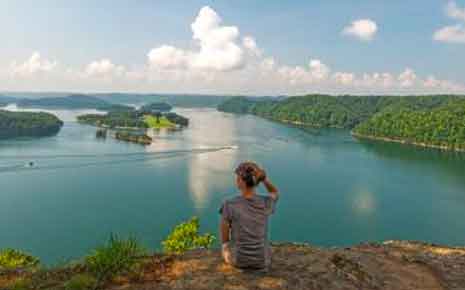 Dale Hallow Lake State Resort Park
Fisherman's Cove
Hendricks Creek Resort
Hidden Cave Ranch Bed and Breakfast
River Breeze Retreat
Riverfront Lodge
Sulphur Creek Resort, Inc.
Your Dale Hollow Getaway